Ever thought of composing your own music? ...you could download an evaluation of a synthesizing software from www.fruityloops.com ...the best among those I've tried out... very intutive user interface... (evaluation copy dosent allow you to save your composition)
---
Yoga Without Tree Hugging
By Paul Bancroft
Excellent very small book on Yoga... brilliant and very humourous.
It dosent really teach yoga (best learnt from an instructor), but explains it. Of course there are 1000s of books on Yoga, but this book explains theres more to Yoga than just managing to get into confusingly convoluted postures.
Some quotes by Yoga guru BKS Iyengar:

Intelligence alone will not solve problems,
unless it is linked with observation.
First observe, and then use the intelligence.
	---------
Use your intelligence to control the body
Before starting the movements of the body.
In the beginning,
The brain moves faster than the body;
later, the body moves faster than the brain.
The movement of the body and the intelligence of the brain
Should synchronize and keep pace with each other.

---
This story made a lot of sense:

"The Buddha once visited a small town called Kesaputta in the kingdom of Kosala. The inhabitants of this town were known by the common name Kalama. When they heard that the Buddha was in their town, the Kalamas paid him a visit, and told him:

'Sir, there are some recluses and brahmanas who visit Kesaputta. They explain and illumine only their own doctrines, and despise, condemn and spurn others' doctrines. Then come other recluses and brahmanas, and they, too, in their turn, explain and illumine only their own doctrines, and despise and condemn and spurn others' doctrines. But, for us, Sir, we have always doubt and perplexity as to who among these venerable
recluses and brahmanas spoke the truth and who spoke falsehood.'

Then the Budhha gave them this advice, unique in the history of religions:

'Yes, Kalamas, it is proper that you have doubt, that you have perplexity, for a doubt has arisen in a matter which is doubtful. Now, look you Kalamas, do not be led by reports, or tradition, or hearsay. Be not led by the authority of religious texts, nor by mere logic or inference, nor by considering appearances, nor by the delight in speculative opinions, nor by seeming possibilities, nor by the idea; "this is our teacher'. But, O Kalamas, when you know for youselves that certain things are unwholesome (akusala), and wrong, and bad, then give them up ...
And when you know for youselves that certain things are wholesome (kusala) and good, then accept them and follow them.'

The Buddha went even further. He told the bhikkhus that a disciple should examine even the Tathagata (Buddha) himself, so that he (the disciple) might be fully convinced of the true value of the teacher whom he followed."
Source: http://www.cains.com/bucha/kalama.html

---
What is Zen - based on the book The Tao of Physics
The perfection of Zen is thus to live one's everyday life naturally and spontaneously. When Po-chang was asked to difine Zen, he said, "When hungry, eat, when tired, sleep." Although this sounds simple and obvious, like so much in Zen, it is in fact quite a difficult task. To regain the naturalness of our original nature requires long training and constitutes a great spritual achievement. In the words of a famous Zen saying,
Before you study Zen, mountains are mountains and rivers are rivers; while you are studying Zen, mountains are no longer mountains and rivers are no longer rivers; but once you have had enlightenment mountains are once again mountains and rivers again rivers.
---
One Day The Sun Will Rise
Many have screamed the truth to the heavens, many will continue to do so to the wind; but few ears are really willing to listen. Can it be that our human nature prevents us from "hearing" what our masters are telling us? Can it be that humanity is asleep, choked with false values, idols or ideals? Why do most people roam searching, consciously or unconsciously, for something or someone to follow? Are we facing our own drowsiness when we search to be identified, noticed and become a part of something?
Many people have asked themselves: Who am I? Where am I going? Why am I here in this world? Questions that surely have troubled us, but the real problem is not the question, rather the answer. How many of us have found it? Sadder still, how many of us haven't found it? Even sadder still, how many of us, once we've made the question haven't even taken the time to think about it? It seems easier to follow the "normal" course of things, be born, live and die without knowing why and what for.
...
Let's not waste our time, let's wake up and jump right in the adventure of personal development, the search of the real I. And how far will we go? It all depends on how deep we are willing to go.

http://www.shotokai.cl/ensayos/30_eg_.html
---
KNOWLEDGE OF 'THE TAO', AND EXPERIENCE OF THE TAO.
There is a way in which we may conduct our lives without regrets, and in such a manner as assists in developing and realizing our individual potential, without harming others, or inhibiting the realization of their potential, and which is beneficial to a healthy society.
Such a way of life may of course be conducted without a name, and without description, but in order that others may know of it, and so as to distinguish it from other ways in which life may be conducted, we give it a name, and use words to describe it.
When discussing or describing this way in which life may be conducted, rather than refer to it in full, for convenience, we refer to it as 'the way', meaning simply that the discussion is concerned with this particular way, not that it is the only way of conducting one's life. In order that we might distinguish it more easily from other ways, we refer to it also by its original name, which is 'Tao'.
http://www.clas.ufl.edu/users/gthursby/taoism/ttcstan2.htm#TAO
Complete translation: http://www.clas.ufl.edu/users/gthursby/taoism/ttcstan3.htm
Another translation: TaoDeChing - Lao Tze
Chinese classic.
http://www.chinapage.com/gnl.html
---
Life is very complex in these days. The struggle for existence is very keen. Man finds no time to study big philosophical and religious books, or the whole of the Gita. Here is an abridged edition of the Gita which contains its quintessence for the use of students, doctors, advocates and busy people.
http://www.geocities.com/radhakutir/text41.htm
This is an excellent writeup on the essence of the Gita...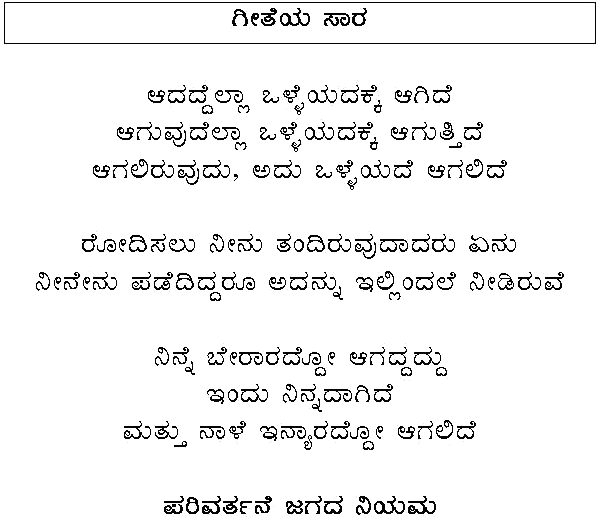 ---